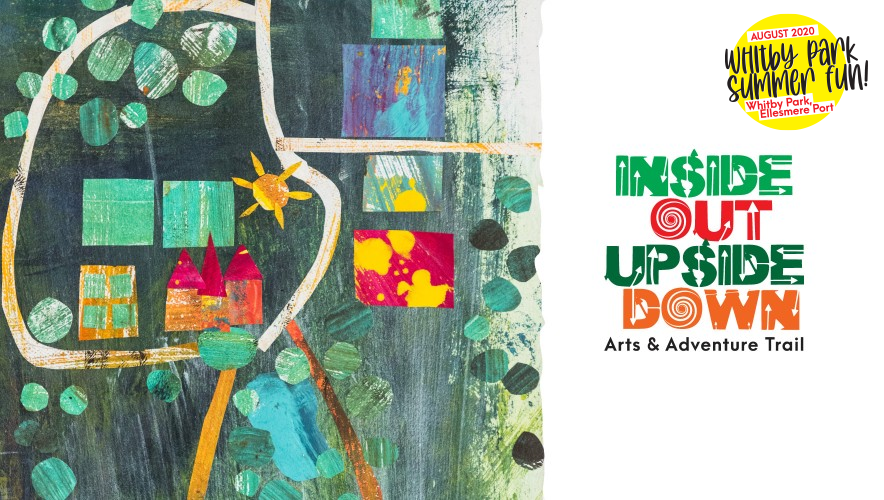 Mon 10 August - 10:00am
Tue 11 August - 10:00am
Wed 12 August - 10:00am
Thu 13 August - 10:00am
Fri 14 August - 10:00am
Sat 15 August - 10:00am
Sun 16 August - 10:00am
Mon 17 August - 10:00am
Tue 18 August - 10:00am
Wed 19 August - 10:00am
Thu 20 August - 10:00am
Fri 21 August - 10:00am
Sat 22 August - 10:00am
Sun 23 August - 10:00am
InSIDE oUt UpsiDe Down (Arts & Adventure Trail)
10th - 23rd August (10.00am-8.00pm)
Part of Whitby Park Summer Fun.
Come and wander our adventure trail, using the special map provided - includes story making, games, streamable poems & the odd circus performer!
Trail devised by Cathy Cross with input from Poets in Paint, Dommy B, Patrick Dineen & James Bazley.
For families, ages 5+ years old
For family activities all children must attend with an adult and be supervised at all times
The trail includes 3 downloadable audio poems, these can be heard here:
Credits
​Designed by Cathy Cross
Cathy Cross trained in Theatre Design and has spent her career working in community theatre and education. Projects include work for Action Transport Theatre, The Youth Service, Creative Partnerships, Cheshire Advisory Service. Liverpool Culture Company and Heart of Glass. She is currently Creative Director of Make Space Create.
Cathy has also combined the breadth of her experience to inform her role as a change maker, creativity consultant and professional 'den' maker!
Music and Sound by Patrick Dineen
Patrick Dineen is a composer and lyricist who has written, for theatre, TV and radio, including BBC Radio 3, BBC Radio 4, ITV, BBC 2. Channel 4 and SKY/Discovery. His outdoor, site specific projects include Liverpool's Year as European Capital of Culture (2008); As The World Tipped (multi-media aerial ballet, Wired Aerial Theatre and National Theatre of Wales.
As a long standing ATT collaborator, Patrick has also written the score and lyrics for the critically acclaimed ATT & Unity Theatre Christmas Shows as well as music for STATik and Happily Ever After.
Patrick has composed 3 new pieces of music for the Inside Out installations.
Story/Poems by Dommy B
Dominic Berry is an award winning writer, poet and performer. He won the 2020 Saboteur award for Best Spoken Word Artist and was long-listed for 'Best Spoken Word Show' of the year.
He has been Glastonbury Festival Poet in Residence 2017& 2019 and has performed in venues up and down the country with his playful and witty poetry sets.
For Inside Out Upside Down, Dominic has created 3 new short poems/stories which are streamable from the our YouTube Channel.
Poets in Paint
Poets in Paint CIC are a community art team based in Ellesmere Port.
They hand paint their unique designs onto pavements and walls, transforming public spaces and physical environments.
Their aim is to improve people's sense of well being and quality of life.
You can find out more by visiting their website www.poetsinpaint.com 
More information?
​For more information please call 0151 357 2120 or email jess@actiontransporttheatre.org
COVID-19 SAFETY GUIDANCE
Part of our Whitby Park Summer Fun programme - all activities will adhere to the Government's guidance around COVID-19 please note all information is subject to change or cancellation and updates will be made on this webpage.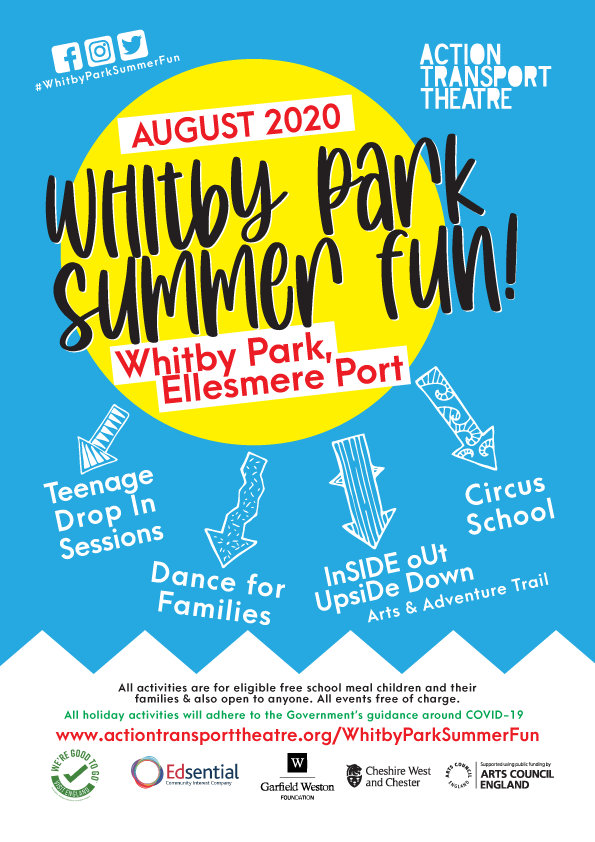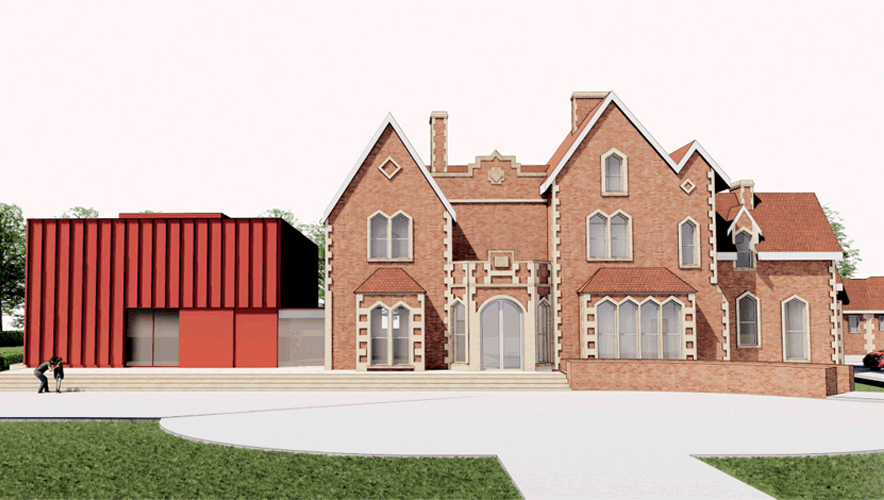 Whitby Hall 2021 Transformation
The transformation of Whitby Hall into a world class centre, specialising in high quality arts and culture for children, young people and their families, will improve levels of aspiration and general health and wellbeing by providing a new, wide-ranging and inspirational programme for all ...find out more?
Posted: 23 July 2020