Thu 12 August - 10:00am
Fri 13 August - 10:00am
Sat 14 August - 10:00am
Sun 15 August - 10:00am
Mon 16 August - 10:00am
Tue 17 August - 10:00am
Wed 18 August - 10:00am
Thu 19 August - 10:00am
Fri 20 August - 10:00am
Sat 21 August - 10:00am
Sun 22 August - 10:00am
Mon 23 August - 10:00am
Tue 24 August - 10:00am
Wed 25 August - 10:00am
Thu 26 August - 10:00am
Fri 27 August - 10:00am
Sat 28 August - 10:00am
Sun 29 August - 10:00am
Mon 30 August - 10:00am
Tue 31 August - 10:00am
Ticket information:
FREE TICKETS - Now available!
Buy Tickets
Porto's Peculiar Playground is part of our 2021 Whitby Park Summer Of Fun in Ellesmere Port
12th August – 31st August 2021
This August come and play at Porto's Peculiar Playground, a magical and unique arts & adventure trail created especially for Whitby Park – in the heart of Ellesmere Port.
For the second year running, professional theatre company ATT are bringing Whitby Park to extraordinary life with installations which surprise and delight and for 2021, this will include 'peculiar goings on' and 'curious happenings'.
Combining live performance, art installations and an adventure trail - we aim to capture the hearts and minds of children and grown-ups - 'playgrounders', of all ages, from Ellesmere Port and beyond.
Come and Play
Weave your way around the park using our perfectly peculiar map and discover all the ways to play in PORTO'S playground.
There will be original music from composer Patrick Dineen, who created soundscapes for our 2020 trail, a special performance programme for Whitby Park amphitheatre and much more ...oh, and watch out for Park Keeper - he is on the war path again, the squirrels have nicked his sandwiches and he is not happy!
Trail designer, Sascha Gilmour will be working with ATT to animate the park with her imaginative designs, she said "I am really excited to be designing the trail for Whitby Park, I love being surrounded by nature and think that Porto's Peculiar Playground will be a special opportunity to create interactive and fun installations in a beautiful green space. I am particularly interested in approaching the project with a focus on sustainability and how we can incorporate recycled materials into the trail..."
You'll also find artwork from local schools including Cambridge Road Primary School; The Oaks Community Primary School; Parklands Community Primary School; St. Bernard's RC Primary; Westminster Community Primary School and Wolverham Primary & Nursery School within the park.
Summer of Fun
Committed to supporting the recovery of the local community through art and culture, Action Transport Theatre – a dedicated children and young people's theatre company and mainstay in the community for the last 35 years is planning an inspiring, Summer of Fun for all ages whilst their home in Whitby Park, is transformed into an amazing new arts & cultural space for local audiences and visitors to Ellesmere Port.
To be kept up to date about this and all our activities leading up to the opening of our new theatre, why not sign up to our newsletter here.
Activities in and around Whitby Park for our 2021 arts and adventure trail 'Porto's Peculiar Playground' will include:
Summer days of free trail activity in Whitby Park (self-directed and covid safe)
Sensory days
VIP Events
PORTO Extravaganza – extra 'goings on' throughout the park
Friday Theatre Days – a special programme of performances for the amphitheatre including circus, dance, and theatre
An Artist Development Day
More information
Most activities are for families of all ages
For family activities all children must attend with an adult and always be supervised
​Please call 0151 357 2120 or email info@actiontransporttheatre.org
Get involved?
We are currently recruiting for:
Thank You!
Porto's Peculiar Playground has been devised by Action Transport Theatre – all made possible by funding from Arts Council England; Cheshire West and Chester Council; MBNA; The Chester Bluecoat Charity & The Westminster Foundation.
Trail Credits
​Designed by Sascha Gilmour
Sascha Gilmour is a theatre designer, maker and puppeteer living in Manchester with a studio in Cheshire.
She creates work for plays, musicals, festivals, events, and performance art.
Working collaboratively, pushing boundaries and a focus on sustainability are at the core of her creative process.
Sascha is a co-founder of the North-West Design Allotment and a member of the Society of British Theatre Designers.
Music and Sound by Patrick Dineen
Patrick Dineen is a composer and lyricist who has written, for theatre, TV and radio, including BBC Radio 3, BBC Radio 4, ITV, BBC 2. Channel 4 and SKY/Discovery. His outdoor, site specific projects include Liverpool's Year as European Capital of Culture (2008); As The World Tipped (multi-media aerial ballet, Wired Aerial Theatre and National Theatre of Wales.
As a long-standing ATT collaborator, Patrick has also written the score and lyrics for the critically acclaimed ATT & Unity Theatre Christmas Shows as well as music for STATik and Happily Ever After.
Safety Guidance
Despite the recent removal of legal obligations, we love our community and want to play our part in keeping people safe. As suggested by Cheshire West and Chester Council, we'd like to encourage all visitors to our events to consider the following extra precautions
Please don't attend our event if you have any symptoms or have been asked to isolate by track and trace
Please consider taking a lateral flow test before you visit us
Please continue to respect other people's space and avoid close contact
Please allow our stewards to guide you away from areas that are becoming congested
Hand sanitizer and track and trace QR codes will be available to you at various points throughout the park
A covid risk assessment for PPP events will be available on our website.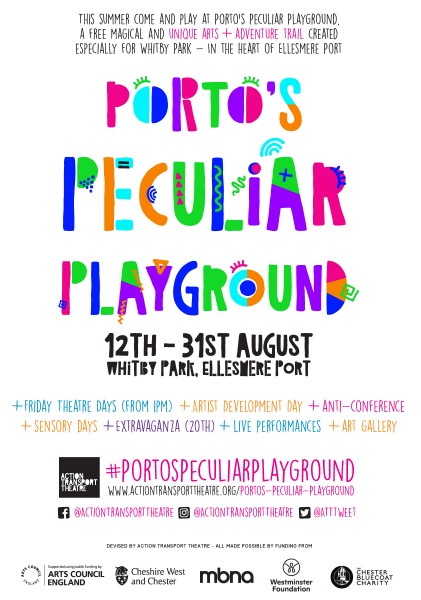 Posted: 8 June 2021