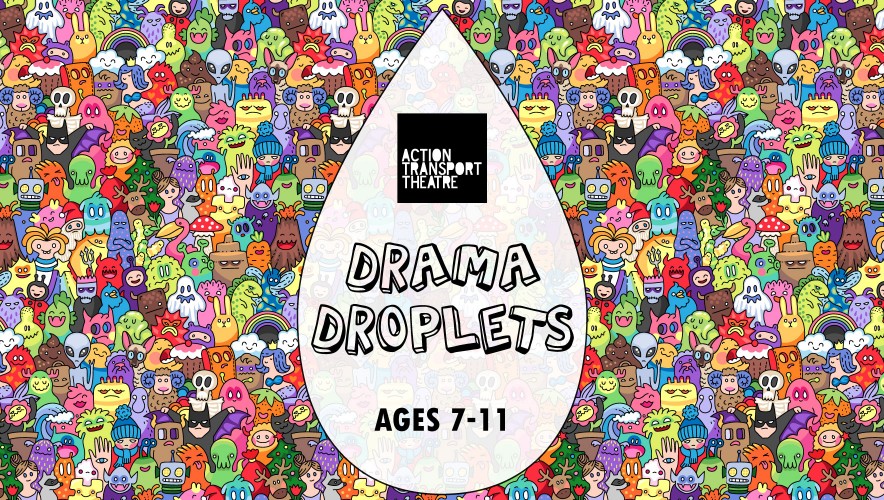 Wed 17 March - 5:00pm
Wed 24 March - 5:00pm
Wed 21 April - 5:00pm
Wed 28 April - 5:00pm
Wed 5 May - 5:00pm
Wed 12 May - 5:00pm
Wed 19 May - 5:00pm
Wed 26 May - 5:00pm
Wed 9 June - 5:00pm
Wed 16 June - 5:00pm
Wed 23 June - 5:00pm
Wed 30 June - 5:00pm
Wed 7 July - 5:00pm
Wed 14 July - 5:00pm
UPDATE 16th March 2021
Our sessions remain online via Zoom for until further notice. We will update this page and let all registered participants know when we can start face to face sessions again.
Joining instructions have been emailed to all those who have registered
If you have any questions at this stage, please email jess@actiontransporttheatre.org or call 0151 357 2120
Drama Droplets continues on line...
We are pleased that our FREE Wednesday night Drama Droplets can continue on line.
For Drop-In (ages 12-17) please click here.
Our parent / guardian consent form MUST be completed for the young person to be allowed to join the session (any data provided here will be kept and processed in line with our data privacy policy, will only be used for the purposes of running the session and data may be used in aggregated form to evaluate our sessions)
We also have our amazing leader Phil Cross and our fab pastoral support worker Jem Borsberry in every session.
If you have any questions at this stage, please do drop Jess our Producer an email on jess@actiontransporttheatre.org or call 0151 357 2120.
Here are some important rules that must be followed:
All participants (whether you are new or been coming for a while) MUST sign up to the registration form before they attend the session.
ATT's free drama group for ages 7-11
Have a go, learn new skills and build your confidence in our free drama group, working with theatre professionals.
Drama Droplets is a great place to enjoy fun bursts of creative exploration. Each week we will play games exploring different elements of drama as well as creating short pieces of theatre. From beginnings to Drama Experts- all of our activities are designed to be accessible and fun for all abilities.
There are no auditions and you don't need to have done any drama before to take part. Drama Droplets is all about trying out different drama techniques, having fun and meeting new people.
Drama Droplets runs each Wednesday evening. We also run a Drama Drop-In group for older children (12+).
Being a part of Drama Droplets will keep you connected to Action Transport Theatre throughout the year - supporting your development as a young actor and theatre-maker.
For more information download the information pack on the right hand side of the page.
Posted: 3 September 2020