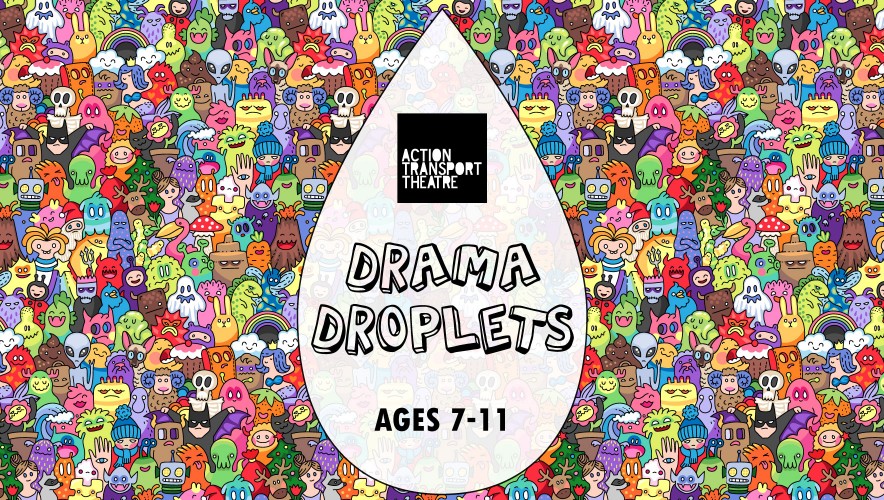 Wed 11 May - 5:00pm
Wed 25 May - 5:00pm
Wed 8 June - 5:00pm
Wed 15 June - 5:00pm
Wed 22 June - 5:00pm
Wed 29 June - 5:00pm
Wed 6 July - 5:00pm
Wed 13 July - 5:00pm
Welcome to ATT's free drama group for ages 7-11
WEDNESDAY SESSIONS
Fully Booked
THURSDAY SESSIONS
From Thursday 3rd March 4.30-6pm at Westminster Primary School
Drama Droplets is a great place to enjoy fun bursts of creative exploration. Each week we will play games exploring different elements of drama as well as creating short pieces of theatre. From beginnings to Drama Experts- all of our activities are designed to be accessible and fun for all abilities.
There are no auditions and you don't need to have done any drama before to take part. Drama Droplets is all about trying out different drama techniques, having fun and meeting new people.
Drama Droplets runs each Wednesday in term time between 5-6.30pm at a venue in Ellesmere Port. We also run a Drama Drop-In group for older children (12+).
We have our brilliant leader Phil Cross and fab pastoral support worker Jem Borsberry in each session.
Being a part of Drama Droplets will keep you connected to Action Transport Theatre throughout the year - supporting your development as a young actor and theatre-maker.
To sign up to Drama Droplets please fill in the Registration Form - a link to this can be found here. This needs to be completed by a parent/ carer/ guardian if you are under 16.
Full information about the sessions will then be emailed to all those who have completed this form (any data provided here will be kept and processed in line with our data privacy policy, will only be used for the purposes of running the session and data may be used in aggregated form to evaluate our sessions)

Any questions, please email jess@actiontransporttheatre.org or call 0151 357 2120
Posted: 3 September 2020