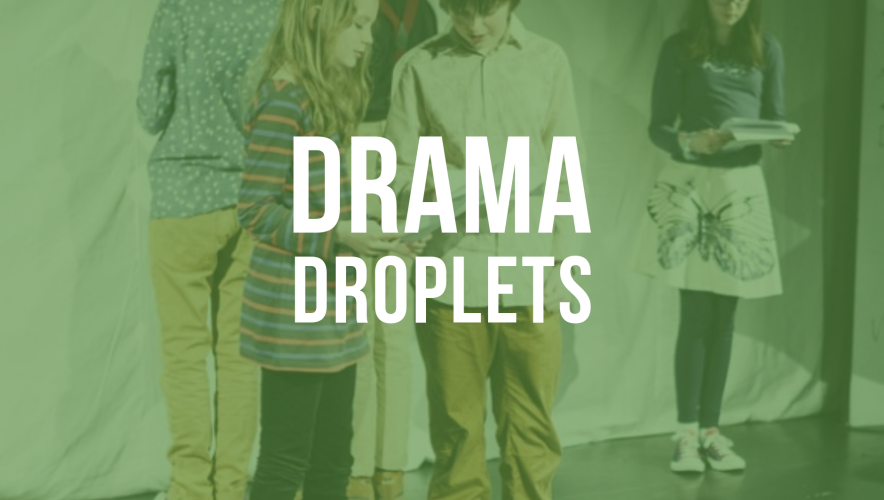 Wed 8 January - 5:00pm
Wed 15 January - 5:00pm
Wed 22 January - 5:00pm
Wed 29 January - 5:00pm
Wed 5 February - 5:00pm
Wed 12 February - 5:00pm
Wed 26 February - 5:00pm
Wed 4 March - 5:00pm
Wed 11 March - 5:00pm
Wed 6 May - 5:00pm
Update as at 2nd April 2020
To the Parents & Guardians of our Drama Drop-in & Drama Droplets, We'd like to explore your thoughts about us trialling a remote version of our sessions. Please could you complete our initial survey? It should take a minute and you can find it here...
-----
Cancelled until further notice - please read our Coronavirus/COVID-19 Update and what this means for these sessions.
-----
ATT's free drama group for ages 7-11
Have a go, learn new skills and build your confidence in our free drama group, working with theatre professionals.
Drama Droplets is a great place to enjoy fun bursts of creative exploration. Each week we will play games exploring different elements of drama as well as creating short pieces of theatre. From beginnings to Drama Experts- all of our activities are designed to be accessible and fun for all abilities.
There are no auditions and you don't need to have done any drama before to take part. Drama Droplets is all about trying out different drama techniques, having fun and meeting new people.
Drama Droplets runs each Wednesday evening from 5-6.30pm. We also run a Drama Drop-In group for older children (12+).
Being a part of Drama Droplets will keep you connected to Action Transport Theatre throughout the year - supporting your development as a young actor and theatre-maker.
For more information download the information pack on the right hand side of the page, contact Jess Egan-Simon, jess@actiontransporttheatre.org or 0151 357 2120.
Posted: 8 March 2016