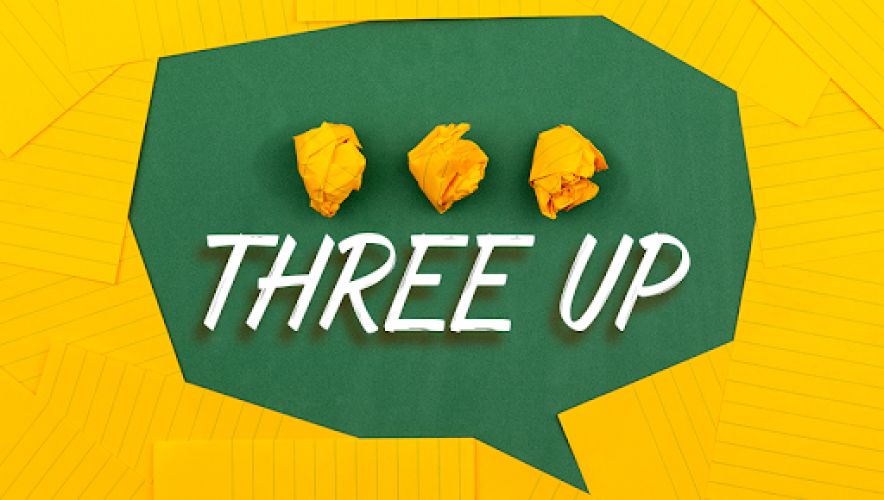 Latest information (updated 17th September 2020)
​Three Up continues to be a great digital collaboration between the young writers of Action Transport Theatre, Canada's Young People's Theatre (YPT) and Australia's Ryde Youth Theatre

This world-spanning collaborative writers project has produced a play called 'Almost Nowhere Somewhere'

The play is a huge, multi-generational, multi-time and space fantasy play that sees three young people – all of whom have had their memories altered – go on a perilous and personal journey to find out the truth

The story has embedded in it the problems of all great fantasy stories like Lord of the Rings, Narnia or The Hunger Games… how do you make the audience believe in things that are literally out of this world?

But behind the stories of altered time and a boy everyone thinks is dead, but is in fact a 'bookworm' imprisoned in The Library of Knowhere, is a girl's struggle to be free – from lies, and from the control of her Mum!

The writers meet every week with dramaturg and professional writer Kevin Dyer (Action Transport Theatre's Associate Writer)

​Three Up 2020 culminated on June 30th 2020 with a digital get together across three time zones - more details to follow!

The script and some key resources from workshops and rehearsals will then be made available online in due course
Background information & application process:
An incredible opportunity for young writers...
Action Transport Theatre with Canada's Young People's Theatre (YPT), and Australia's Ryde Youth Theatre are thrilled to partner on Three Up, an international programme for young writers aged 13-17.
For 2021, Action Transport Theatre will be looking for FOUR young people with a passion for writing and interest in building their skills to be part of this two month international collaboration. The Three Up program provides the opportunity for young people to reach beyond their own borders to build a community with young writers from Canada and Australia while working with professional local and international playwrights and facilitators. It is a fun way to write and make friends with similar interests.
Call for Applications
We will be looking for FOUR participants for the Three Up 2021 program who:
are between the ages of 13 -17

have experience with and interest in creative writing (plays, poems, short stories, etc.)

have an interest in international creative collaboration

are able to commit to attend eight sessions at ATT

are able to commit a minimum of one hour a week to independent writing and/or correspondence with international writing partners and

have access to the internet, a personal e-mail address and permission to use a Facebook account to access our closed Facebook group
Three Up 2021 Program Schedule
Online Work:
Participants will be added to the Three Up Facebook group and given the first assignment of the program
The Three Up Facebook group is the participant's primary way to share and discuss the writing process and completed works with their peers and facilitators from each country. Assignments will be regularly posted on the Facebook group.
Sessions:
Sessions due to take place in Ellesmere Port throughout March, April and May and there will be a sharing event in June 2021.
Sessions will take place with Kevin Dyer, ATT's Associate Writer, and the four other participants. The purpose of these meetings will be to write and to discuss your collaborative work with your international partners.
How to Apply?
More details coming soon.
All applications will be reviewed and assessed by the ATT Three Up team. Applications will be assessed for merit, potential and writing craft.
For further information, please contact Jessica Egan-Simon, Producer on 0151 357 2120 | jess@actiontransporttheatre.org
This program is part of The Ada Slaight Education Centre at YPT, established through a generous donation from The Slaight Family Foundation.

Posted: 6 May 2020