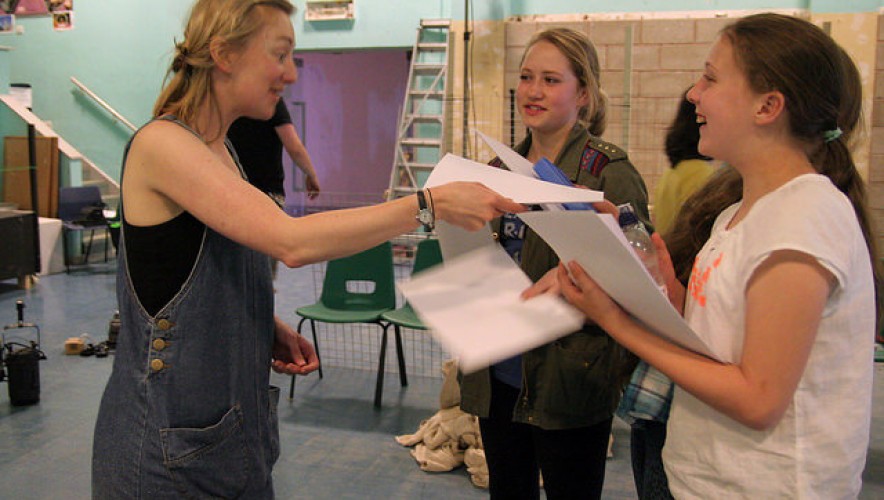 Get stuck in
Volunteer with Action Transport Theatre
Volunteering with Action Transport Theatre is a fantastic way to get real hands-on experience in lots of different areas. Whether it's helping out front-of-house, learning how to get a touring show on the road, assisting our marketing team, or supporting one of our Young Actors or Young Writers projects, there are loads of ways to get involved, build your skills and have lots of fun.
As a volunteer you'll:
Get useful behind-the-scenes experience in an award-winning theatre
Gain CV-boosting skills
Meet lots of interesting people
Enjoy free entry to performances, screenings and events
Help ATT to keep creating and programming amazing theatre, putting on events and running acting and writing groups for young people
Just let us know what you're interested in and we'll find something to support you! (Volunteers must be 16 or over.)
To find out more email our Technical Venue Manager, Matt Bennett on technical@actiontransporttheatre.org
Work Experience: Explore a career in the arts
Action Transport Theatre is committed to providing quality work experience opportunities to help those interested in a career in the arts gain genuine insight and experience of what we do. Have a look below at the kinds of placements we can offer.
Secondary School/College (up to 18 years)
ATT is able to host two work experience placements a year for young people from local Secondary Schools and Colleges on one or two week work experience placements. For more information, please contact Jess Egan-Simon on jess@actiontransporttheatre.org.
University Placements (18+)
ATT is able to host placements for undergraduate and postgraduate students from relevant courses (such as applied theatre, community theatre etc). We have relationships with the Chester University, Edge Hill University and LIPA and offer work-based learning and shadowing opportunities throughout the academic year. If you are interested in undertaking a placement with us, please contact Jess Egan-Simon on jess@actiontransporttheatre.org.
Apprenticeships and Traineeships
We worked in partnership with Curious Minds to host two Trailblaze traineeships in 2015, which saw our two successful applicants undergoing a six week Theatre Assistant training scheme, while being paid a Living Wage.
We are keen to partner with other apprenticeship and traineeship providers to offer more opportunities to local young people in the sector. If you are hosting an apprentice this current academic year and are keen to link up, please contact us.
Posted: 23 August 2015