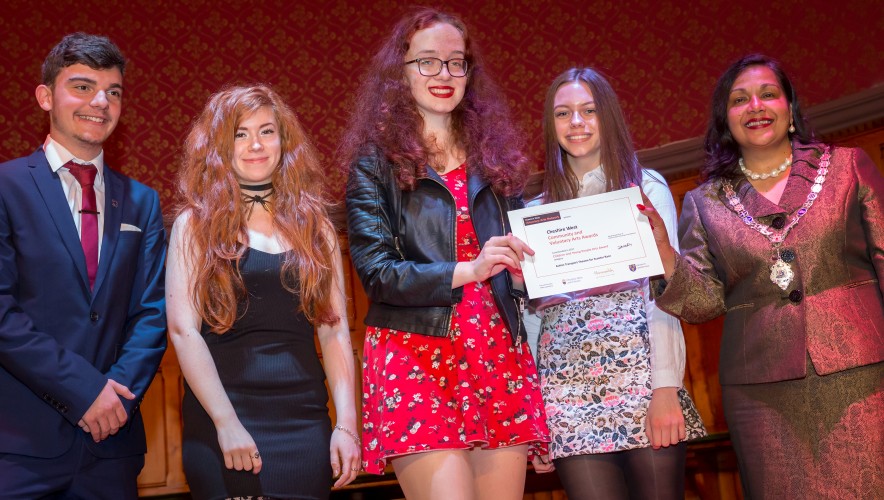 Last night we headed to Chester Town Hall for the Cheshire West Community and Voluntary Arts Awards.
We were nominated for two awards: Performing Arts for our Christmas production with Unity Theatre, Little Red and the Big Bad Wolf; and Children's and Youth Arts for Scooter Race, a collaboration with our ATT Young Writers and performing arts students from West Cheshire College.
Scooter Race was highly commended in the Children's and Youth Arts category. We were thrilled to have some of the writers and performers there to receive the certificate.
Left to right: Rebecca Jones of Essar Stanlow (who supported both projects); Cameron & Nikita who performed in Scooter Race; Caitlin & Olivia who helped write the play; Jess Egan-Simon, Project Manager at ATT.
The project was recognised for its work bringing together organisations, providing amazing arts opportunities for young people, and taking high quality, aspiration-raising theatre into local schools.
You can read more about Scooter Race here, or find out about getting involved in ATT Young Writers.
Top photo: Cameron, Nikita, Olivia & Caitlin receiving the Highly Commended certificate from Chester Deputy Lord Mayor, Councillor Razia Daniels.
Photo credits Mark Carline
Cheshire West Voluntary Arts on Twitter
Posted: 17 May 2017