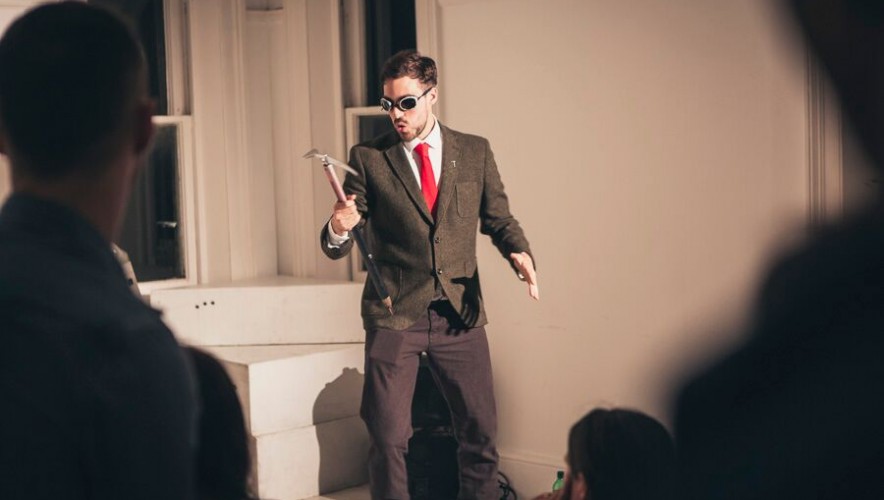 Action Transport Theatre Spring Ball 2019
Open call for local performers
Deadline for applications: Monday 11th March 2019, 5pm
Action Transport Theatre's Spring Ball — formerly known as The Writers' Ball — is an annual celebration and showcase of local talent, aiming to support and profile artists from across the North West making new work. Whitby Hall, home of Action Transport Theatre, becomes animated with surprising pop-up performances happening in spaces throughout the building.
Whitby Hall will enter into an exciting stage of capital development in the next 12 months so this year's event will connect with springtime; change, new ideas and beginnings as Whitby Hall enters into a significant new era. As well as a specially curated line-up we are currently open for applications from North West performers and especially those from Cheshire West, Chester and Ellesmere Port.
Being a part of the ATT Spring Ball will offer you;
A platform to perform to peers and leading North West industry at Whitby Hall which will be transformed into a state-of-the-art new theatre and cultural hub in Ellesmere Port — a great opportunity to make new connections and partnerships
Inclusion in all event marketing, press and PR
Documenting/archiving opportunities to support your portfolio
The opportunity to reach new audiences
Free entry to the event and dinner provided
The opportunity to meet and connect with other artists and performers
£50 bursary to support travel and expenses
ATT will also be presenting its learning from the innovative #animatetheport programme which has explored the role of digital technology in engagement and storytelling with young people, funded by Paul Hamlyn Foundation.
Who can apply?
The ATT Spring Ball aims to promote artists, writers, theatremakers, musicians, poets and performers of all persuasions based in the North West. Especially those artists based in/working in or from Cheshire West and Chester i.e. under Cheshire West and Chester Council.
What type of work are we looking for?
We have a range of opportunities on offer from extracts of finished work, scratches or even site-specific pop-ups. We welcome applications from all mediums including film. Watch a video of the 2017 Ball here.
How long should my piece be?
You will have the chance to perform a maximum 10 minutes of work at least twice throughout the event
When and where is the ATT Spring Ball 2019?
The event will take place on Friday 26th April 2019, 2-6pm. You should be available from 10am on the day. For directions to Whitby Hall, please click here.
How do I apply?
If you are interested, please email submissions.attspringball@gmail.com with some information about yourself and a description of the work you'd like to bring to the ATT Spring Ball. If you have any other questions or queries please contact Charlotte Mountford on charlotte.paperworks@gmail.com.
About Action Transport Theatre
Action Transport Theatre (ATT) are an ACE National Portfolio Organisation based in Ellesmere Port where we make pioneering theatre for, by and with young people — as well running various artist development, education and engagement projects.
Photos below from previous Writers' Balls:
Posted: 13 February 2019