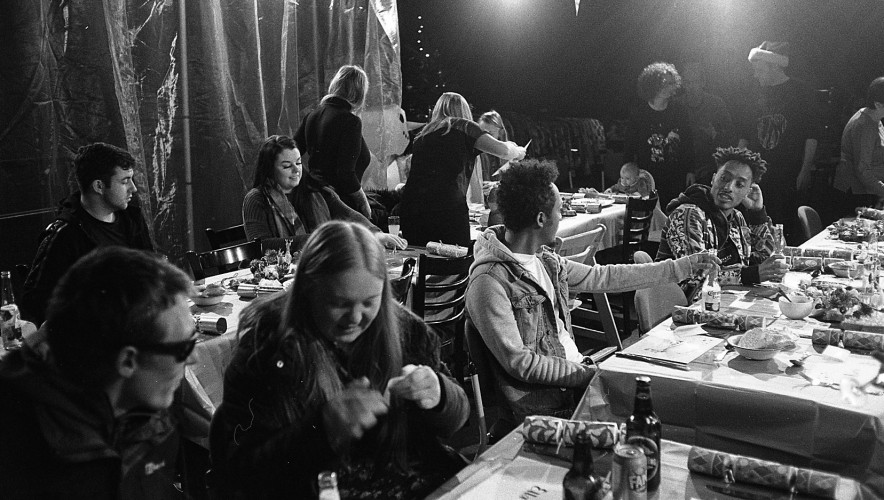 The Ellesmere Port Christmas Dinner for Care Leavers returned on Christmas Day 2019, following a successful inaugural event last year (2018).
The event, which now runs nationally, was inspired by Manchester poet and broadcaster Lemn Sissay, who spent much of his childhood in care and recognised that young people who had been raised in foster care or care homes often lacked support once they left the care system aged 18.
Once again, volunteers gave up their free time on the day to provide a Christmas dinner for dozens of care leavers aged 18-27 and give them meaningful gifts, in a magical event at Whitby Hall, home of Action Transport Theatre.
We'll shortly be sharing a video from the day - but in the meantime, here is a poem written by our very own Associate Writer, Kevin Dyer.
THIS IS A POEM
This is a poem about booze and shoes
about false eyelashes and toy food
- all wrapped in nice paper and given to yous and yous and yous.
This is a bad poem about trainers and hoodies
and make-up, after-shave and other wrapped-up goodies.
It's about phones and a skateboard
and perfume and a football -
things you asked for and things you didn't ask for not at all.
This is a poem about fake tan and toy cars
about cook books and pink bras,
about 100 parcels delivered here
and wrapped by families of volunteers
all raising their glasses - even if not here today - and shouting cheers.
Cheers!
These atrociously bad verses are really about care
and an attempt to share the fact from dozens of people that they do. Care. About you.
It comes from 30 unknown folk who gave to the crowdfunding
all the way from Glasgow to London;
and Cheeky Chilli who paid for the grub
and some bloke called Wayne who gave a tenner down the pub,
and coffee mornings with tea and biccies and orange squash
and primary school kids that did crazy stuff to raise some dosh,
and all over the UK people in wellies and people in kilts
have got together and made us some quilts.
We've been in the press, and someone has tidied up the mess
and swept out this place - just letting you know in case
you think we are always this tidy. Cos we are not. Not a jot.
And local art students have made the tags for the gifts
and so much stuff came in from Amazon we had to use the lift.
But most of all, this bad poem is just to share how much people care;
how many good people have put their hands in their pockets or given up their time.
And even though this poem has some terrible rhymes….
in fact it is not really a poem at all.
Please think of it as a bird - I know that's absurd - but imagine this poem is a bird from out there that has flown in with love and kindness on its wings,
and in its beak is a twig of happiness.
And this bird, a robin probably, because it's that time of year isn't it,
is dropping in to this room and saying hope to see you back here in this building again, once more, in the not too distant future, soon.
Posted: 16 January 2020