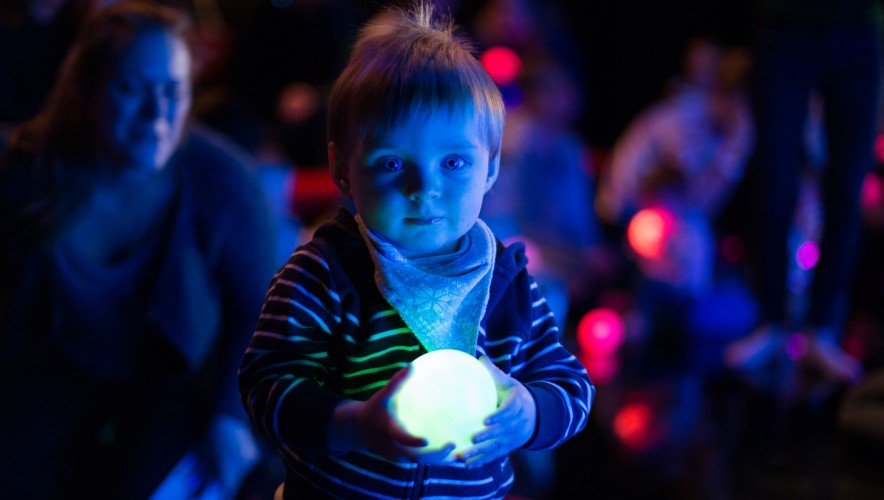 Ellesmere Port Family Festival is back!
Don't miss out on exclusive early bird tickets — available until the end of July
Ellesmere Port Family Festival is returning for its third year in 2019. During the October/November half term holiday you can treat the whole family to world class theatre, music, storytelling, dance and more — all right here in the port!
Click here for further information & tickets.
The shows
KALEIDOSCOPE (age 6–18 months)
A brand new piece of theatre for little ones, Kaleidoscope is a gentle and playful play full of light and movement. The play is inspired by research into how babies' sight develops. Guaranteed to be a beautiful shared experience.
MINI (age 2–4)
A delightful, interactive dance show for young children. Award-winning Italian theatre company TPO are bringing Mini to Ellesmere Port Civic Hall. Its beautiful set comes to life as your little ones interact with it. A very special show.
STITCH BROTHERS PATCHWORK WONDERS (age 5–8)
Live drawing! Beatboxing! Animation! Jazz! An exhilarating new piece of music theatre for ages 5–8.
Patchwork Wonders is a genre-bursting mix of live beatboxing, imagery, surround sound, words, electronica, jazz, hip hop and South Asian classical folk music. You'll be transported into a magical, dreamlike world of sound, words and projections.
More info | Tickets coming soon!
THE MYSTERY OF THE RADDLESHAM MUMPS (age 7+)
A gothic tale which will make you and your family shudder and laugh out loud!
Written and performed by acclaimed poet Murray Lachlan Young and directed by ATT's very own Nina Hajiyianni.
"Fearsome and Funny" — Michael Rosen
"Side-splittingly hilarious" — Howard Blake (The Snowman)
More announcements to come
We'll be announcing even more family fun from now until October. Creative sessions, free workshops and fun competitions all coming your way. Watch this space!
Posted: 10 July 2019