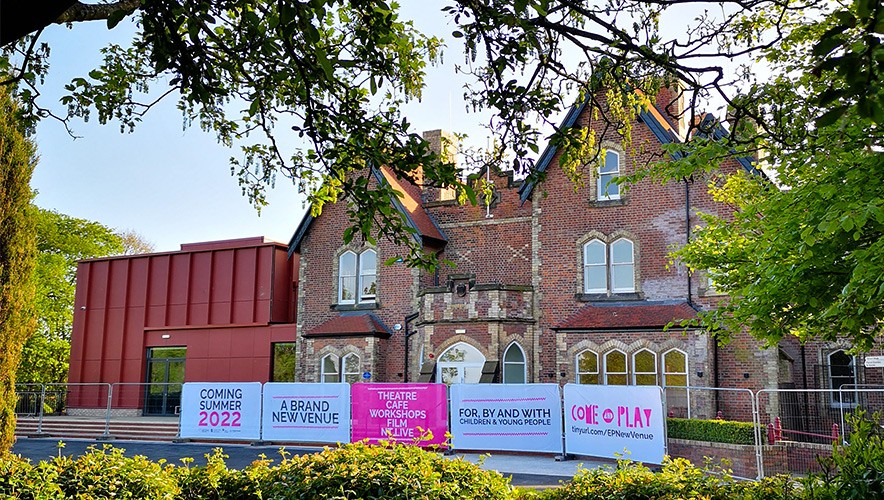 It's just over 3 months (and counting) till we prepare to open our doors to the newly transformed Whitby Hall!
We have now completed the new-build phase of the transformation project resulting in a modern, purpose-built theatre and performance space for arts and culture in Ellesmere Port.
The new venue will be one of a handful of specialist spaces dedicated to the children and young people across the country and a fantastic new resource for Ellesmere Port and the wider region.
As well as a state-of-the-art theatre, the interior has been transformed into open plan; light-filled spaces which includes a community café, terrace and workshop spaces which will offer a range of cultural activities, over-looking beautiful Whitby Park.
The completion of the build phase marks the end of the major part of the project which has been funded by Cheshire West and Chester Council and Arts Council England, providing a stronger platform for nationally recognised, resident company Action Transport Theatre as a specialist theatre company, making professional work for, by and with children and young people.
ATT Young Writer, Nathan said "So excited for the next generation of Action Transport Theatre Company..." with, ATT Young Creative, Praiseworthy adding "We are hyped to get back in the building".
As part of the capital programme, the scheme has also addressed a range of issues which had brought our much-loved historic hall into disrepair. The impressive makeover includes a new roof, windows, and flooring and a new layout that has breathed new life into the hall allowing people to flow through the public areas and into the surrounding park including the rear gardens.
The final 3 months of the scheme (now underway) includes a technical fit-out by Stage Electrics & Audience Systems and exciting interior design work which is being led by Hannah Wehbeh known for her interior design work at Chester's STORYHOUSE. Over the coming months a new brand and website for the venue, created by design|dylunio will be released to complete the project.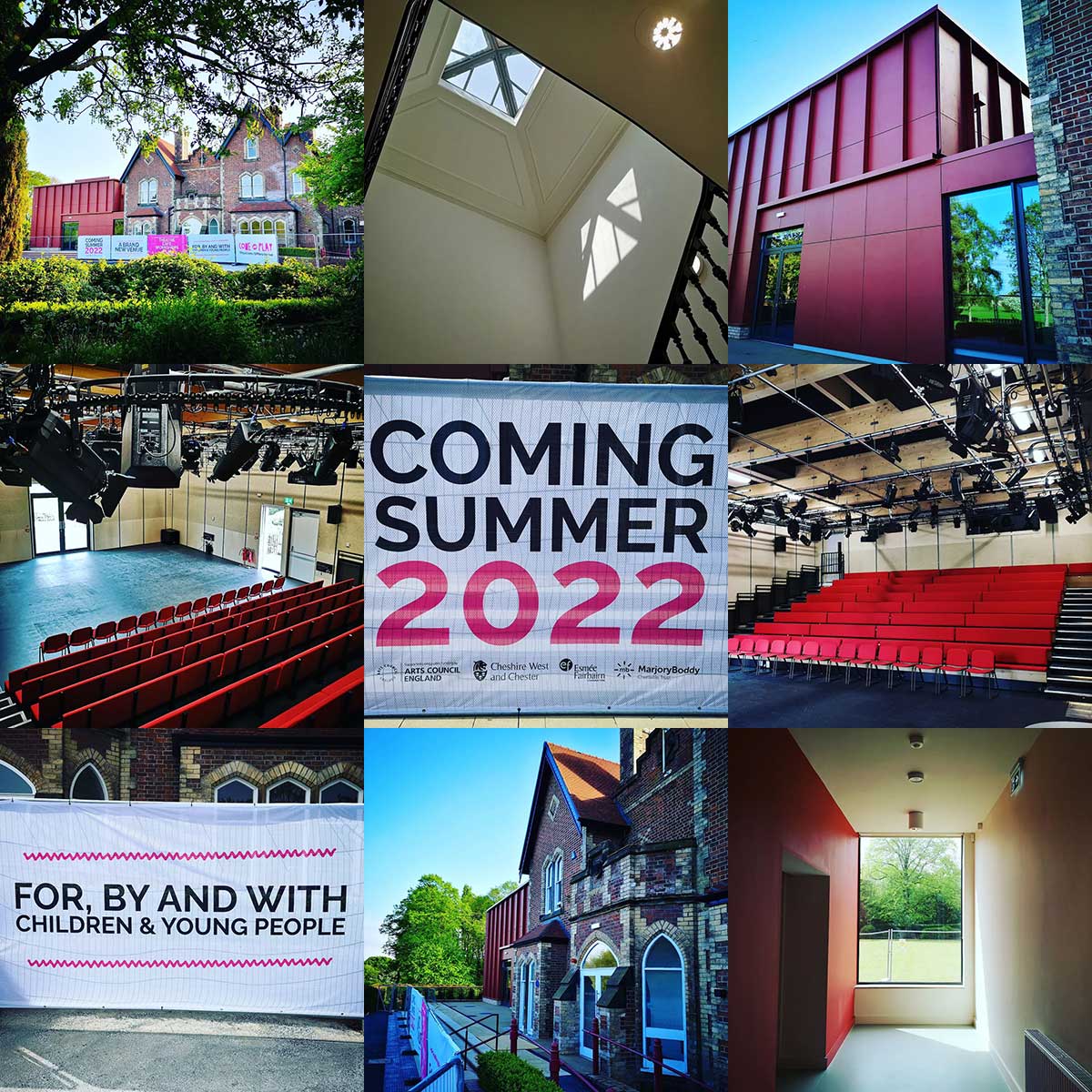 The transformation of Whitby Hall will result in a state-of-the-art centre, specialising in arts and culture 'for, by and with' children and young people.
Made in Ellesmere Port, our work reaches local, regional and national participants and audiences, following completion of the capital programme, our venue will be the only one of its kind in Cheshire, on Merseyside and one of a handful of dedicated children and young peoples venues in England.
Read more about the transformation - http://www.actiontransporttheatre.org/whitby-hall
Join us this summer!
From August 10-20th, Whitby Park will see our third outdoor arts trail and summer programme, which will welcome thousands of visitors through our doors for the first time, since the start of the capital work in 2019!
The outdoor arts trail, 'Once Upon a Time' will animate parts of Whitby Park through a series of installations with specially composed music, using child-centred principles of 'play and wonder', leading audiences through the park and into the building.
Later in the autumn, the venue will host a range of events and activities, including visiting productions; special performances for schools and families, National Theatre Live screenings for local audiences, weekly workshops and a Family Film Club.
The venue will also host the The Lemn Sissay Christmas Dinner for care experienced young people, which ATT are supporting for the 4th year in a row.
The £2.8M capital programme, funded by Cheshire West and Chester and Arts Council England has recently also benefited from a grant awarded by the Marjory Boddy Trust for refurbishment of the new café. We are extremely grateful to our funders who have made an incredibly important contribution to arts and culture and young people in Ellesmere Port, and to our wider partners, sponsors, and supporters.
For further information and updates visit https://linktr.ee/ActionTransportTheatre
Posted: 10 May 2022