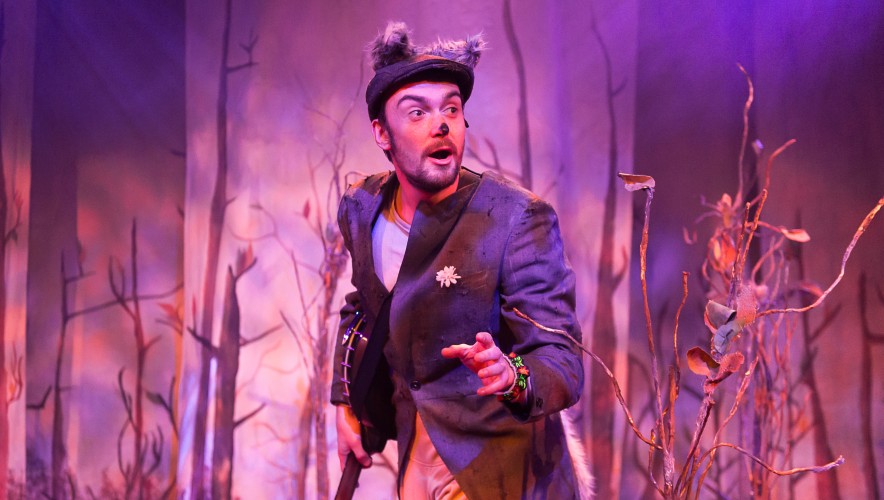 Little Red returns
Little Red and the Big Bad Wolf was a smash hit here at Whitby Hall back in January (and before that at Liverpool's Unity Theatre). So much so that it will be returning to the stage in December 2017 at Z-Arts in Manchester and the Brewery Arts Centre in Kendal.
Sarah Bailey, the newest member of the ATT board of trustees, shares her review of the show.
I'm a shameless lover of Christmas shows. Like most of us, they introduced me to the theatre. So, I was looking forward to Little Red and the Big Bad Wolf. I wasn't disappointed; in fact, I was charmed and spooked in equal measure.
One of the things that I love about ATT is the way the work raises lightly political questions about who we are and the choices that we make. The work is thoughtful but it avoids sermonising. In this re-telling of the familiar classic we got to understand a little bit more about the nature of the wolf and what is more, Little Red's character gave us a solid and unsentimental message about compassion.
The show was wrapped in a lyrical package, too. At no point did the form patronise its young audience. Musically it gave a nod to Tom Waits and there were echoes of William S. Burroughs in the patter of the wolf's hairy feet.
No Christmas show would be complete without a healthy dose of laughter and some audience participation. Being invited to let out a good howl at the moon was extremely satisfying and reminded us to take neither our judgements nor ourselves too seriously.
You can also check out reviews on a couple of wonderful blog: Twentea Something and Mini Travellers.
If you're a blogger with an interest in theatre then we'd love to hear from you! Email marketing@actiontransporttheatre.org
Posted: 25 April 2017