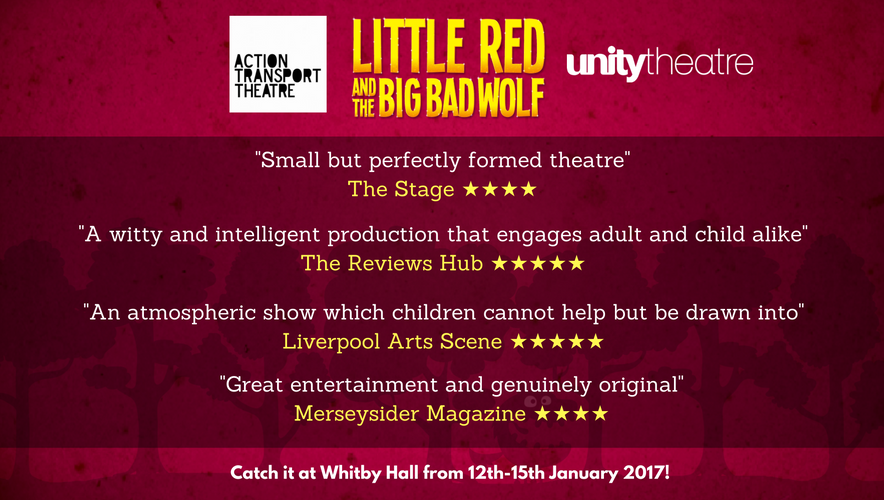 Our band new Christmas show Little Red and the Big Bad Wolf opened to glowing reviews in Liverpool this week.
The show, produced with Unity Theatre, will be coming to Whitby Hall from 12th-15th January.
In their five star review Liverpool Arts Scene call Little Red 'an atmospheric show which the children cannot help but be drawn into'
'The four-strong cast are brilliant.' (Liverpool Arts Scene *****)
The Reviews Hub also give five stars, saying 'Unity Theatre is transformed into a dark and mysterious forest direct from the pages of a storybook in a witty and intelligent production that engages adult and child alike.'
'Under Nina Hajiyianni's skilful direction, it alludes to Lemony Snicket and Roald Dahl with its ability to stimulate its young audience.' (The Reviews Hub *****)
The Stage called Little Red 'small but perfectly formed theatre', giving the show four stars.
Four stars from North West End, who described Little Red as 'beautifully set, with imaginative staging', 'filled with jokes along the way', before declaring it 'the perfect way to see in the beginning of the festive season'.
Good News Liverpool praise the play's 'magical scenes' and say, 'Harvey Robinson is wonderfully guileful as the wolf'.
Made Up announce that 'Patrick Dineen once again provided a delightful and understated score and original songs'.
'This year's Christmas production is a delight, an atmospheric, imaginative theatrical journey with enough attention to detail to entertain the grown-ups alongside plenty of comedy, scares, songs and audience participation for willing youngsters. It is a classic story, intelligently told, and as such is suitable for all ages without resorting to risqué gags for the adults or terrorising the audience' (Made Up Liverpool)
Merseysider Magazine say 'Kevin Dyer's play is one for all ages, a cleverly crafted moral fable that is thought-provoking but also a lot of fun.' They gave Litte Red and the Big Bad Wolf four stars, saying it is 'subtler and more imaginative than most, and it deserves to be a big hit.'
'Great entertainment and genuinely original.' (Merseysider Magazine ****)
Tickets are available here or on 0151 357 2120 or boxoffice@actiontransporttheatre.org.
Adults £8, children £5, families £22.
Posted: 5 December 2016