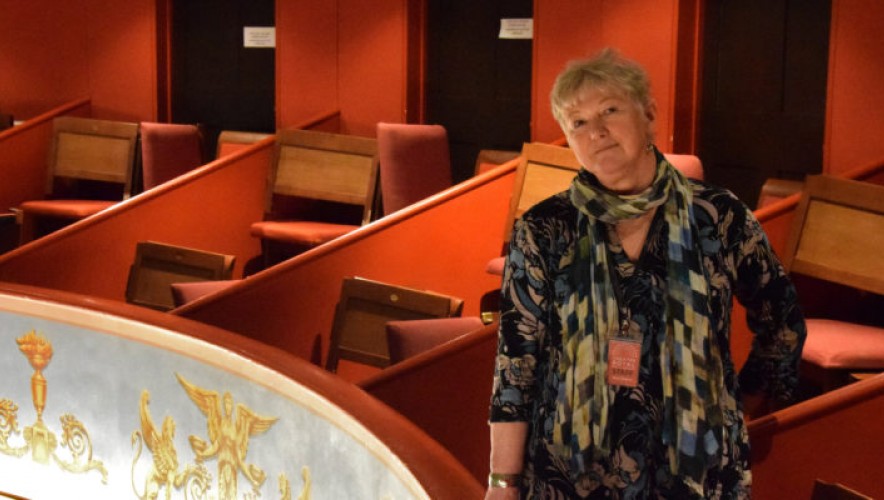 It was with much sadness that we learnt the news that founder and former Artistic Director of Action Transport Theatre, Karen Simpson, sadly passed away on Saturday 4th January 2020.
Karen set up Action Transport Theatre in 1986 and served as our wonderful Artistic Director until 2001.
She led us to become a very well established Theatre In Education company with a fantastic reputation. The company worked with hundreds of schools, set up youth theatre groups and undertook big community productions such as 'The Big Ditch' and 'Pool of Dreams' which hold many fond memories for families still living in Ellesmere Port today.
This interview with Karen, undertaken when ATT celebrated its 25th birthday in 2011 gives a wonderful insight into what Karen felt passionate about and the legacy she has left behind in a company that has changed the lives of so many young people from Ellesmere Port and the surrounding area.
Karen's funeral will take place on Monday 3rd February 2020 at 2pm at Chester Crematorium.
Jessica Egan-Simon, ATT Producer said:
"It was Karen who offered me a work placement in 1998 and then my first paid job in the arts in 2000, both at Action Transport Theatre. Twenty years later I'm incredibly grateful to Karen for this and very proud to still work for the company she set up, that has left a huge legacy and changed many young people's lives for the better in Ellesmere Port and across the wider region. Her belief and drive to make high quality theatre accessible to all, especially in schools, is still at the heart of ATT today, and still so relevant and needed as the company enters its 34th year. Our thanks go to Karen from everyone who has worked for ATT over the years and the community of Ellesmere Port too."
Karen Simpson interview – Action Transport Theatre 25th Birthday Celebration (Originally published 2011)
What was your aim in setting up the company?
When I started ATT there was absolutely no Theatre In Education or touring provision in Cheshire, beyond the Chester Gateway's very occasional foray into a community tour. I grew up in Ellesmere Port and was frustrated by the complete dearth of professional theatre. On speaking with local (mainly primary) headteachers, I found that their experience of theatre in schools was very negative. So, my aim in setting up the company was to remedy the situation.
How did you choose what plays to produce? What were your guiding principles?
At the start, teachers needed to see good, tried and tested work so they could see what theatre in schools could be. Our first play was 'Peacemaker' – it was a strong piece, for an infant age audience (although it could also go into lower juniors) about prejudice and other topics that weren't being discussed in schools.
We wanted to reach children of all ages so our second play was 'Lives Worth Living', aimed at a secondary audience. It had a solid run at the Belgrade Theatre in Coventry, and was again about challenging subjects (at the time), people with learning disabilities and care in the community. It was issue based but also had a strong teenage story. We also ran a workshop along with this play.
While we were keen to show new work, we had to begin by gaining the schools confidence. So the aim was to produce quality theatre, whether established or a new play. We gradually branched out. Teachers told us that they were not impressed with the pantomimes that were available locally, so we started touring established plays over the Christmas period. We started our youth theatre which in turn garnered interest from local adults so we started our community company for anyone over 16 – the principle of the group was enthusiasm rather than ability. We were given funding for three resident writers throughout the 1990's, which increased our reputation as a new writing company, and we also started working with people with disabilities. When local councillors were persuaded to give us Whitby Hall as a base, we were then able to pursue a wide range of projects.
Because there was no existing provision, we worked in as many areas as we could – not just theatre in education. A lot of our projects were about local people engaging with professionals. We also ended up working with social services and providing teacher training.
A few of our productions dealt directly with the issue of race, but it was important to us that our work was more broadly multicultural in terms of integrated casting and cultural stories.
What do you see as your three key productions?
I really couldn't pick three our of 13 years. 'Peacemaker' obviously holds special status as the first. 'The Big Ditch' was key in funding the community company's ethos, and 'The Pool of Dreams' followed this up. 'It's OK to Say No' raised child protection issues that were being ignored at the time, and as it was on such an edge the play made ATT important within Cheshire, to the extent that we were approached to do similar work when the issue of school absenteeism arose a few years later.
What do you feel you accomplished while running ATT?
We created a massive appetite for our work in schools, who saw ATT as a major part of their drama and theatre provision. We had created an opportunity in Ellesmere Port for engagement in theatre and the arts; and many kept this going. We had demonstrated that young people are interested in the arts, and not just football. We had become an important company in the North West, and had touched a lot of lives. And we had saved Whitby Hall from turning into an empty, derelict building into a live space.
What was your champagne moment?
Fulfilling our hugely ambitious first business plan in only four years. In fact, looking at the coming year's programme each year and knowing it would be more exciting than the last.
Photos from the Action Transport Theatre archives (1986-2001):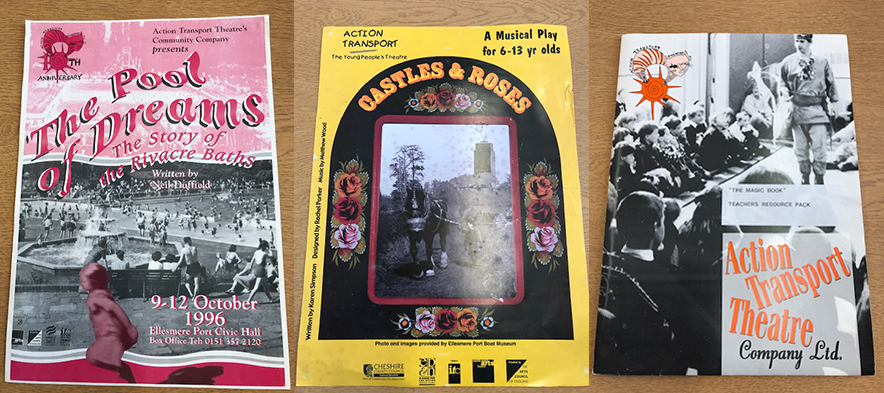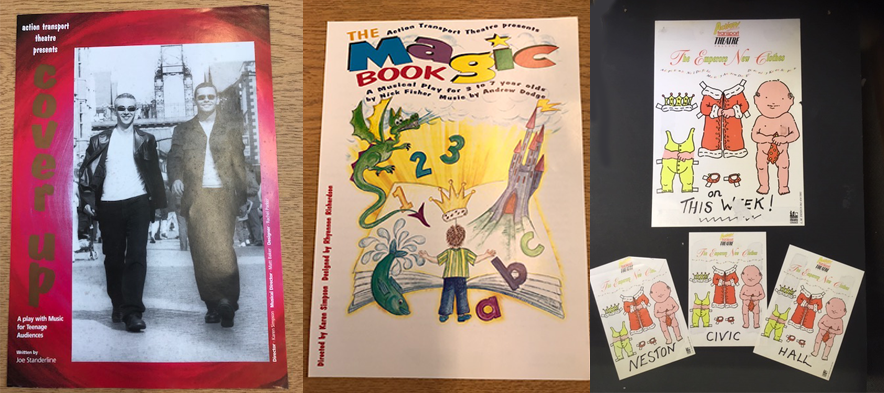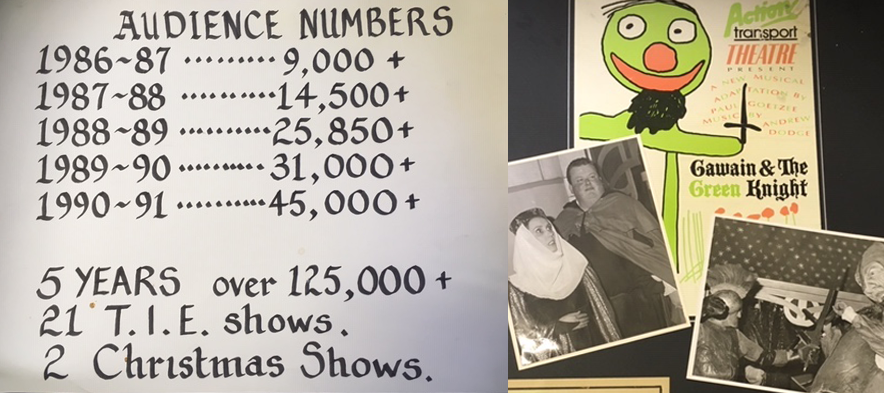 Lead photograph courtesy of
Theatre Royal, Bury St Edmunds
where Karen was CEO and Artisitic Director. Photo: Aaron Weight.
Posted: 21 January 2020