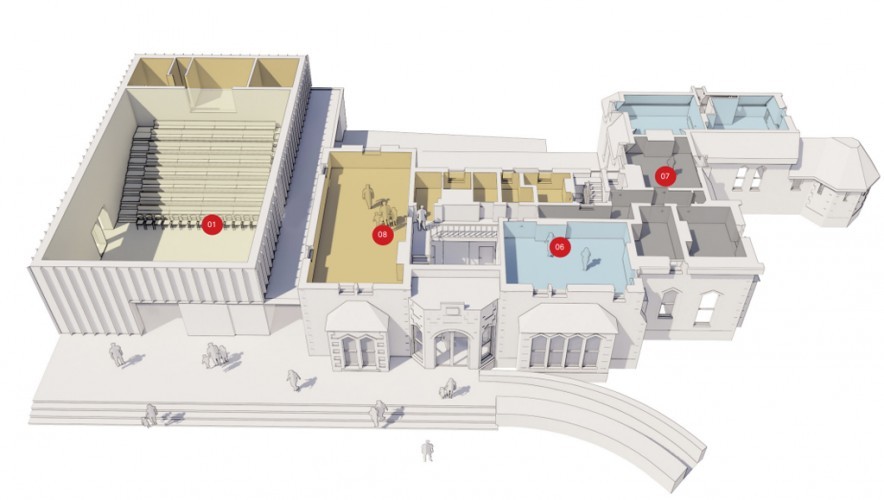 About Us
Action Transport Theatre (ATT) is an award-winning young people's theatre company based in Ellesmere Port, Cheshire and part of Arts Council England's National Portfolio. Our pioneering work 'for, by and with' children and young people has earned the company a strong reputation as leaders in the field. We have recently moved back into our newly developed theatre and arts venue in Whitby Park, Ellesmere Port which include a 145-seat studio theatre, a café, workshop rooms, office spaces.
ROLE DESCRIPTION
This is an exciting and pivotal year for our company as we manage the transition back to a re-developed arts and cultural venue due to open in spring/summer 2022. (You can read more about the current Capital Development here).
We need a new team member, who will work closely with the Head of Facilities and be responsible for the day-to-day upkeep and presentation of Whitby Hall, ensuring it is accessible, clean, safe and secure at all times.
The role needs a 'people-person' who can be welcoming to all our visitors and participants and might equally suit an experienced caretaker or someone keen to use transferable/ practical skills in a role in the arts sector.
Reports to: Head of Facilities
Key Responsibilities:
Assisting with venue maintenance and upkeep
Assisting with venue security and safety
Key holding
Key Tasks:
Your duties will include....
Supporting the company to ensure that the building is safe, accessible, welcoming and inclusive
Unlocking/locking of all areas of the building, including deactivating and setting of intruder alarm
Out of hours keyholding
Daily cleaning of designated areas including toilets, floors and windows in public spaces and staff areas, as well as dealing with ad hoc spillages, etc
Supervising the venue during evening and weekend activities from a security/H&S aspect
Monitoring/checking of all plant equipment
Monitoring and testing of fire alarm and all related items such as extinguishers, emergency lighting
Checking and restocking first aid kits
Basic maintenance, including changing light fittings, replacing taps, repairing flushes, attaching items to walls, etc
Ensuring the building remains free from hazards inside and out, reporting and dealing with any that arise
Liaising with contractors on arrival and during their time on site
Keeping storerooms and external compound tidy and organised
Painting walls/skirting boards as part of an ongoing planned maintenance programme
Setting up rooms for events/bookings, e.g., arranging chairs and tables
Ensuring supplies of cleaning materials and toilet consumables are fully stocked
Receiving and distributing deliveries and other portering duties
Assisting visitors with enquiries
Venue Caretaker Person Specification
Essential Skills and Experience
The ability to build good rapport with our participants and visitors including children, young people and families
Minimum 2-3 yrs experience in a comparable role or a role that required similar skills
Excellent problem solving, organisational and communication skills
The capacity to work quickly and on your own under pressure
A level of confidence in operating fire panels and using electrical tools
A positive "can do" attitude
A basic level of practical skills, including cleaning, decorating and plumbing
The ability to self-motivate and prioritise within a complex workload
Good IT skills, including Word, Excel, Outlook
An understanding of Health and Safety practice and legislation
An appreciation of the value of creative work with children and young people
A proactive attitude to equality and diversity
THIS POST WILL BE SUBJECT TO A DBS CHECK
Desirable
Experience in the arts or charitable sector
Experience of Building Management Systems
Understanding of heating systems
First Aid trained
Hours
21 hours per week. Hours will be rota'd each week/month depending on need and may involve split shifts. Some flexibility of hours can be offered to the right candidate.
A minimum of two evening shifts per week (sometimes more) and one weekend shift will be required.
ATT operates a Time Off in Lieu system.
Term – 10 months fixed term contract with the potential to extend – funding dependant
Base – Whitby Hall, Whitby Park, Ellesmere Port, CH64 9AE
Salary – £18,327 FTE
Holiday - 25 days per year plus bank holidays (pro-rata)
Application and interview process
To request an application form please email admin@actiontransporttheatre.org
The closing date for receipt of completed applications is midnight on Thursday 28th April.
Shortlisted candidates will be contacted by email on Friday 29th April and will be invited to an interview in the Venue on Friday 6th May. Please put the date in your diary.
Please note, if you meet all the essential criteria and are interested in applying but cannot make this interview date, please let us know and in some cases, we may be able to make alternative arrangements.
Posted: 12 April 2022