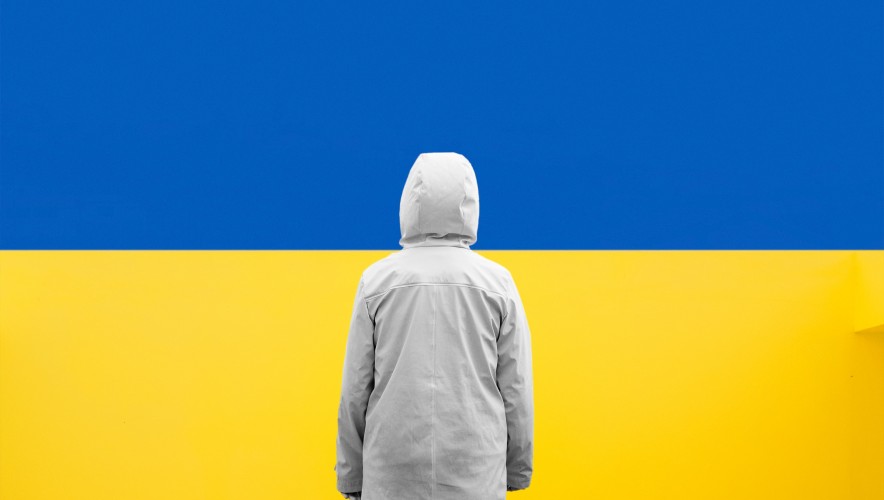 War on children
A blog by Nina Hajiyianni - Director for Baba Yaga and Artistic Director of Action Transport Theatre
March 17th – day 4 of rehearsals. The war in Ukraine continues; yesterday saw the bombing of the theatre in Mariupol.
I'm thinking about the children who will be in the audience over the coming weeks to watch our production of Baba Yaga, a new work based on the Slavic folktale. I'm also thinking about the children who have grown up with this story, children who are caught up in the war 1500 miles away.
In the UK, we know from our experience of the pandemic the emotional and psychological impact on children and young people when life becomes precarious and the future uncertain. In the Ukraine, Children's lives are being changed forever as we speak, and as I watch news reports of adults being interviewed with their children huddled beside them, observing it all and hearing the words coming out of their grown-up's mouths, I think that perhaps the most shocking of all is that children see their parents, guardians, carers, aunties & uncles, teachers, neighbours (their protectors) vulnerable and no longer able to protect them. Notions of safety, of much needed consistency are suddenly no more.
War is made by adults. Always. And children suffer the consequences.
The tragedy is not only the Russian invasion of the Ukraine and the insanity of a power hungry 'psychopath' but of a whole world system which can allow the worst people to be in positions of power and wield such terror - from a child's point of view, our world makes no sense. A world in which war is possible, makes no sense.
The story we are telling is known by children from Russia, Poland and Ukraine and across Eastern Europe, children have grown up with the infamous Baba Yaga like children in the UK might have with Hansel and Gretel – children from many different countries will share a love of it.
We know that one of the things stories can do is cut across borders, they are often collectively known and owned, perhaps this is part of what makes them so powerful?
The story we are telling, based on a new text written by Laura Lindow, does one central thing, like many fairy tales – it confronts fear. The monster (or witch in this instance) lives on a house with chicken legs, she steals childhoods and eats children but if she likes you, she might not. Being around her is precarious, volatile, uncertain. Like war.
Confronting a worst nightmare scenario is when the children in this story (a brother and sister) understand their bravery and resilience. But this is a lesson these children should NEVER have had to endure in context of a war (also within our story) the two are fleeing from. We had decided on this backdrop long before the war in Ukraine started because we know children from many places are forced to flee their homes because of conflict or neglect. It is an important story to tell.
And what can we do? Baba Yaga, the witch, can also be seen as the embodiment of a towns fear – a type of hysteria, the reason the people build a great protective wall around themselves, to keep 'outsiders outside' and 'insiders, well… inside' - and safe. They turn the children away. Sound familiar?
Our Artistic Producer at Theatre Hullabaloo, Miranda Thain said she had been asked a few times if we are cancelling the play because 'it is Russian', her response- we need stories like this now more than ever. I am also thinking of the Russian children who also have no say, and no control over what it happening. I'm glad as we continue our work, that in our minds, this story brings children on two sides of a different kind of man-made wall – together.
Lastly, at this time, when we are confronted by the worst of humanity, I am so grateful to be back in the rehearsal room working with thoughtful, open-hearted and generous people, where the principles of invention, curiosity, playfulness and physical expression all interplay to make something wonderful – these are the qualities of childhood, that if we are lucky, we hang onto as adults.
Baba Yaga is a new co-production between Theatre Hullabaloo and Action Transport Theatre, the show opens in Darlington on the 5th April before touring in 2023.
Posted: 25 March 2022