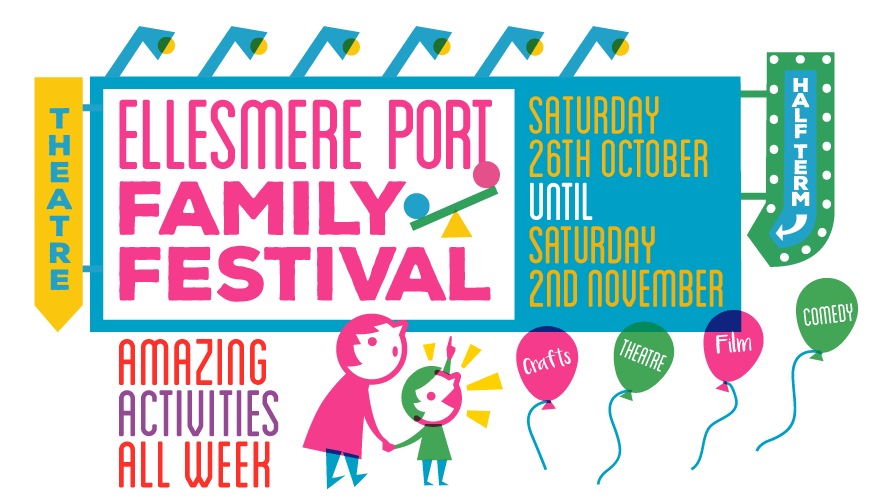 Ticket information:
Shows for age 6 months – teens
£5 tickets for residents / £8 / £various / £free
Buy Tickets
World-class performances
Shows for age 6 months – teens
£5 tickets for residents / £8 / £various / £free
Ellesmere Port Family Festival 2019
Take a look at the links opposite for key events, dates, further information & ticket details >>>
In 2019 our third annual Ellesmere Port Family Festival will be taking over the Port during the autumn half term, filling the town with brilliant theatre, film, dance and stuff to do!
Since 2017, Action Transport Theatre has been curating the Ellesmere Port Family Festival, bringing brilliant theatre, art, dance, music, film and things to do to venues all around the town.

Previous years have featured sumo street theatre, circus in the library, pumpkin carving in the park, magical storytelling tents, gruesome poetry, stand-up comedy for kids and loads of arty crafty fun.

This year we're back with four brilliant shows for kids aged six months right up to teens. We're premiering a brand new film and hosting some wonderful hands-on workshops too.
Big Imaginations
​The Ellesmere Port Family Festival is able to bring all of this amazing stuff to The Port thanks to Big Imaginations, bringing brilliant theatre to the North West. Throughout October and November you'll find loads of great theatre in venues all around the North West as part of the Big Imaginations Festival.
Posted: 18 October 2019