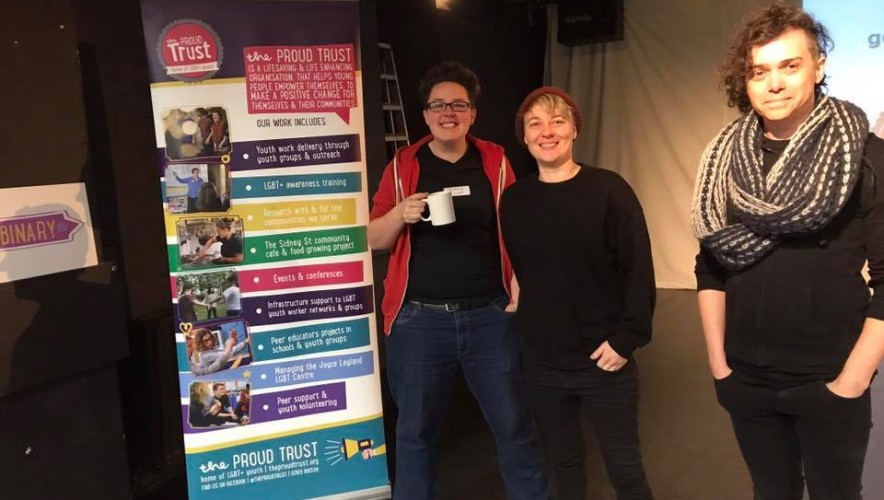 Working with Trans and Gender Non-Conforming Young People
A new theatre and training project from Action Transport Theatre and The Proud Trust
Working with trans and non-binary young people and professional performers, we have created a short, interactive piece of theatre, which will be piloted as part of a series of one day training events from The Proud Trust, Working with Trans and Gender Non-Conforming Young People.
The training days aim to:
Help you get to grips with inclusive terminology and explore key concepts about gender
Myth bust what being trans actually means, and understand trans young people's experiences
Identify how to recognise and prevent transphobia
Learn about the law and safeguarding aspects of working with trans young people
Reflect on your own practice and how to make your work more inclusive
Gain tools to support trans young people including where to signpost
The training sessions have been tailored towards specific professional groups:
Friday 23rd February - Police, Youth Offending Team & Community Safety
Monday 26th February - Primary School Staff
Tuesday 27th February - Secondary School Staff
Thursday 1st March - Professionals who work with young people including Youth Workers, Social Workers, Mental Health Professionals, School Nurses, etc.
If you're interested in potential future training events, please get in touch with The Proud Trust.
For any information about the future life of the project email info@actiontransporttheatre.org
Posted: 27 February 2018