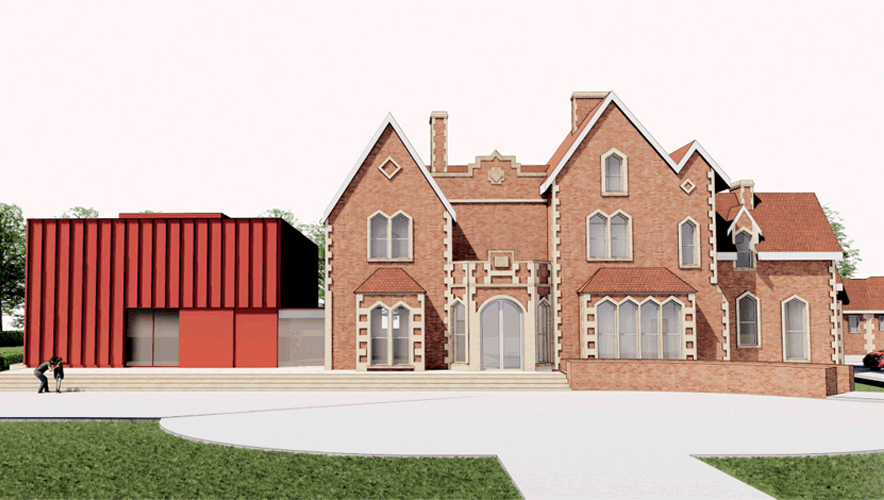 The transformation of Whitby Hall into a world class centre, specialising in high quality arts and culture for children, young people and their families, will improve levels of aspiration and general health and wellbeing by providing a new, wide-ranging and inspirational programme for all.
Latest - April 2020
During the last three months the project has made progress, most notably achieving planning permission in February 2020.
In co-operation with Bennetts Associates (the architect) and Engie (the main building contractor) we have been working towards RIBA Stage 4 which as well as creating a much clearer vision or the interior, gives us a level of detail to be able to put the various elements of the work out to tender for potential contractors and suppliers.
Unfortunately Coronavirus and the subsequent impact on all areas of life has significantly slowed our progress, however, we are continuing with RIBA Stage 4 planning and aim to share some of these updated images in the coming months.
Whilst the pandemic continues there will obviously be some delay to the build start date - but Action Transport Theatre and our partners Arts Council England and Cheshire West and Chester Council remain committed to achieving the vision for Whitby Hall.
December 2019 / January 2020
The proposed development will cost in the region of £2.5 million which has been secured through funding from Cheshire West and Chester Council and Arts Council England. Over the coming weeks, the design work will be completed up to RIBA Stage 3 and the scheme is submitted for planning.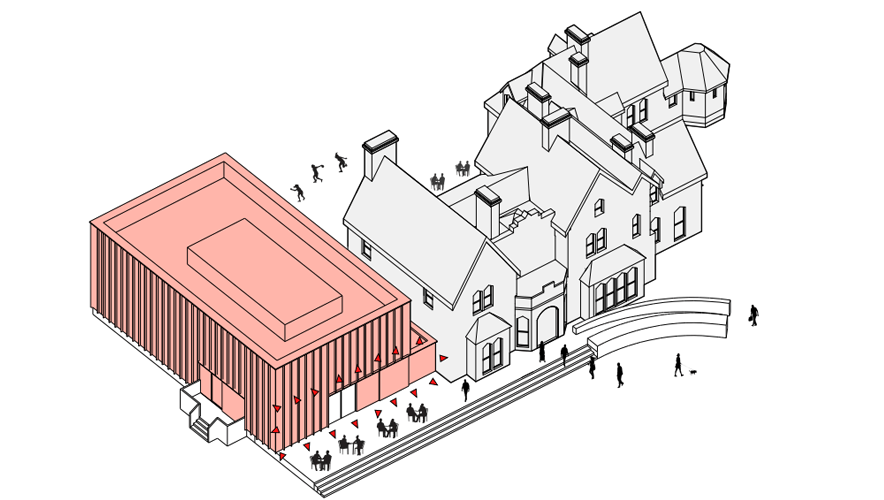 What's happening?
Action Transport Theatre are preparing to carry out an ambitious project which will see the transformation of locally listed Whitby Hall into a world class centre, specialising in high quality arts and culture for children, young people and their families.
The project will transform Whitby Hall from a tired, run-down building into a welcoming, accessible and inspiring arts and cultural centre, which will create a sustainable operating model for Action Transport Theatre; broadening, strengthening and consolidating their position as one of the North of England's key cultural assets.
An award-winning team which includes architects Bennetts Associates and main contractor Engie are appointed to design and construct the project. An exciting, modern scheme has been developed to accommodate the future aspirations of Action Transport Theatre.
You are invited to view the designs and proposals for the building and provide us with feedback through the online questionnaire.
About the transformation
In response to the recent growth and success of Action Transport Theatre and in the context of Ellesmere Port's wider regeneration, a scheme has been developed to transform Whitby Hall into a world class centre specialising in high quality arts and culture for children, young people and their families.
Action Transport Theatre is a professional, specialist young people's theatre in Cheshire; it has a national reputation for creating high quality touring work for children and family audiences, and engages local young people who would otherwise have little or no access to artistic or cultural activities.
The improved arts and cultural centre will support the expansion of Action Transport Theatres programme of activities and allow the theatre to engage with partner organisations to bring a rich range of arts and community activities into the building, including yoga, photography, dance, visual arts and music. Additionally, the project will address the current costly maintenance issues of Whitby Hall; the proposed flexible-use workshop spaces will help to generate further revenue
The transformation directly supports Cheshire West and Chester's cultural strategy for the region. More locally, Whitby Hall and Action Transport Theatre will work strategically with local organisations in Ellesmere Port to support a broad programme of activities across the town, providing opportunities for cultural engagement to all.
You can find out more on the Public Transformation Boards.
Posted: 17 December 2019