The transformation of Whitby Hall will result in a state-of-the-art centre, specialising in arts and culture 'for, by and with' children and young people.
Made in Ellesmere Port, our work reaches local, regional and national participants and audiences, following completion of the capital programme, our venue will be the only one of its kind in Cheshire, on Merseyside and one of a handful of dedicated children and young peoples venues in England.
Final Countdown (April 2022)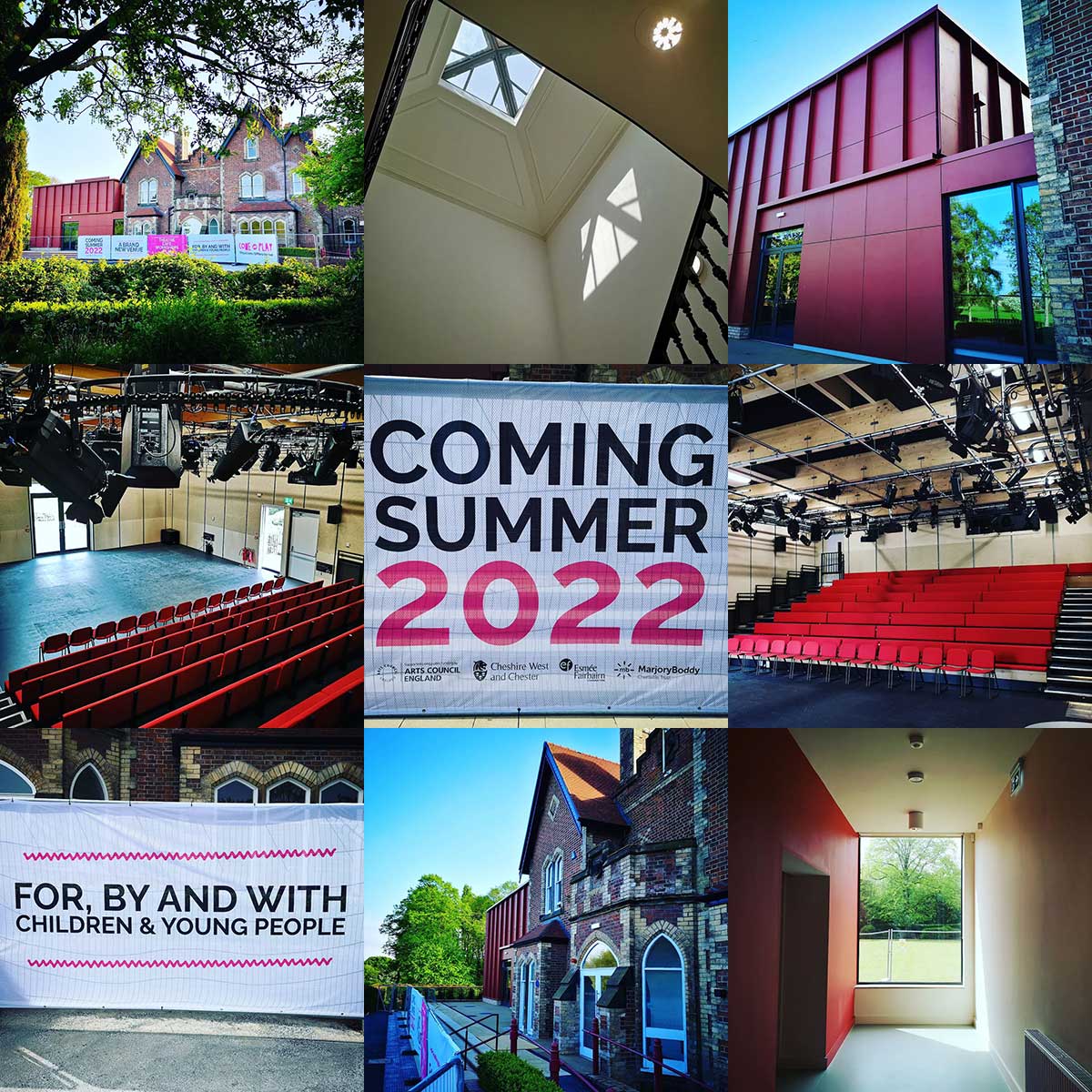 It's just over 3 months (and counting) till we prepare to open our doors to the newly transformed Whitby Hall!
We have now completed the new-build phase of the transformation project resulting in a modern, purpose-built theatre and performance space for arts and culture in Ellesmere Port.
The new venue will be one of a handful of specialist spaces dedicated to the children and young people across the country and a fantastic new resource for Ellesmere Port and the wider region.
As well as a state-of-the-art theatre, the interior has been transformed into open plan; light-filled spaces which includes a community café, terrace and workshop spaces which will offer a range of cultural activities, over-looking beautiful Whitby Park.
The completion of the build phase marks the end of the major part of the project which has been funded by Cheshire West and Chester Council and Arts Council England, providing a stronger platform for nationally recognised, resident company Action Transport Theatre as a specialist theatre company, making professional work for, by and with children and young people.
ATT Young Writer, Nathan said "So excited for the next generation of Action Transport Theatre Company..." with, ATT Young Creative, Praiseworthy adding ""We are hyped to get back in the building".
As part of the capital programme, the scheme has also addressed a range of issues which had brought our much-loved historic hall into disrepair. The impressive makeover includes a new roof, windows, and flooring and a new layout that has breathed new life into the hall allowing people to flow through the public areas and into the surrounding park including the rear gardens.
The final 3 months of the scheme (now underway) includes a technical fit-out by Stage Electrics & Audience Systems and exciting interior design work which is being led by Hannah Wehbeh known for her interior design work at Chester's STORYHOUSE. Over the coming months a new brand and website for the venue, created by design|dylunio will be released to complete the project.
Join us this summer!
From August 10-20th, Whitby Park will see our third outdoor arts trail and summer programme, which will welcome thousands of visitors through our doors for the first time, since the start of the capital work in 2019!
The outdoor arts trail, 'Once Upon a Time' will animate parts of Whitby Park through a series of installations with specially composed music, using child-centred principles of 'play and wonder', leading audiences through the park and into the building.
Later in the autumn, the venue will host a range of events and activities, including visiting productions; special performances for schools and families, National Theatre Live screenings for local audiences, weekly workshops and a Family Film Club.
The venue will also host the The Lemn Sissay Christmas Dinner for care experienced young people, which ATT are supporting for the 4th year in a row.
The £2.8M capital programme, funded by Cheshire West and Chester and Arts Council England has recently also benefited from a grant awarded by the Marjory Boddy Trust for refurbishment of the new café. We are extremely grateful to our funders who have made an incredibly important contribution to arts and culture and young people in Ellesmere Port, and to our wider partners, sponsors, and supporters.
For further information and updates visit https://linktr.ee/ActionTransportTheatre
November 2021
Cassidy + Ashton has been appointed as the architectural delivery partner on the construction of a new state-of-the-art theatre at Whitby Hall, Ellesmere Port.
The new extension, designed by the Manchester studio of London-based architects Bennetts Associates, whose work includes the award-winning Chester Storyhouse, will provide performance space for Arts Council funded, Action Transport Theatre.
It is part of the extensive refurbishment and remodelling of Whitby Hall, a former Victorian stately home, to create a creative centre specialising in high quality arts and culture for children, young people and their families.
The project is funded through capital investment from Cheshire West and Chester Council, and Arts Council England. Action Transport Theatre was also awarded an £82,476 Capital Kickstart grant towards the new theatre, as part of the government's £1.57 billion Culture Recovery Fund.
Read more > Cassidy + Ashton lands architect delivery role on £2.5m Ellesmere Port culture project
July 2021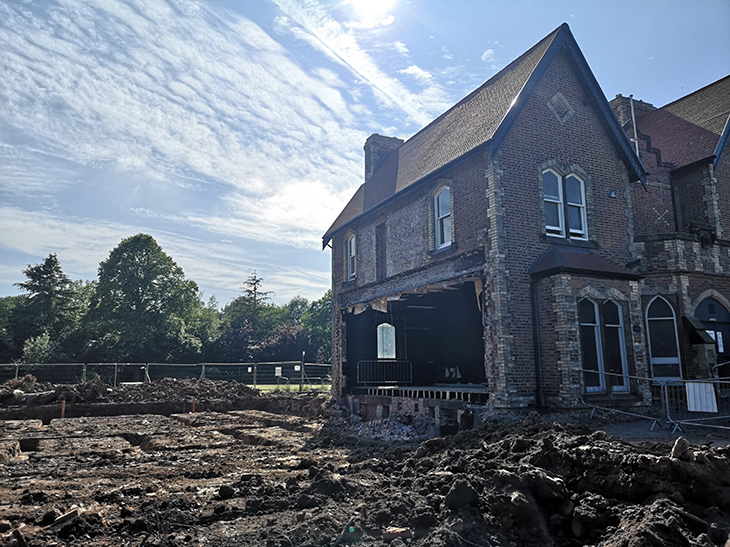 The extenstion has gone!
Building work has reached a new milestone with the demolition of the 1960's/70's extension to Whitby Hall and the laying of the 1st foundation stones for the new state of the art theatre and cultural venue, designed to overlook beautiful Whitby Park.
Over the last few months contractors have been on the ground, preparing for the new build which is overseen by award winning architects, Bennetts Associates.
The low-ceilinged extension built in the late 60's early 70's was in recent years used as our studio theatre, a place for all of our activity with children, young people, schools, families and community groups. Prior to this, from the 1930's, the extension was used as the council offices and chambers having being gifted to the council by the Grace Family.
The well-used and loved building had fallen into a state of disrepair over many years despite the increase in activity in the time it has been ATT's home.
Capital investment from Cheshire West and Chester Council and Arts Council England has ensured that the building will not only be fit for purpose for the local community but also a unique destination place for audiences from across the region and beyond. The new modern venue will boldly contrast the historic hall and cater for a wide variety of uses, including an ambitious participation programme, performances, films and live streaming, including NT live.
The new building will help us strengthen our local, regional and national position as a specialist theatre company, shining a light for the creativity and talent of children and young people.
Latest - May 2021
Following completion of the roof and initial repairs to the exterior, the next phase of building work is due to start on May 24th 2021. The estimated 40 week building project is led by Engie and we couldn't be more excited that work is back underway.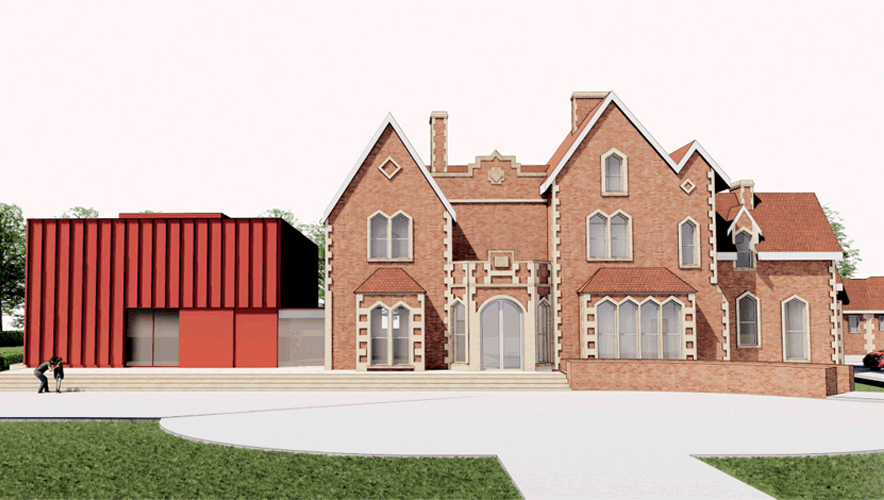 Latest - January 2021
Following the great news in December about our Capital Kickstart grant - work continues behind the scene on our capital programme with building work at Whitby Hall set to continue in Spring 2021.
The aim is that our new theatre and cultural centre in Ellesmere Port will significantly contribute to Covid recovery, positioning a new programme of arts and culture for local people, especially children, young people and families. Further updates will appear here and keep your eyes peeled on our social media channels for further information.
Latest - December 2020
Action Transport Theatre has been awarded a £82,476 Capital Kickstart grant as part of the Government's £1.57 billion Culture Recovery Fund enabling the organisation to push forward with our transformation project despite the financial challenge caused by the Covid-19 crisis.
We are one of 74 organisations receiving grants totalling £58.9 million. The Capital Kickstart grants programme helps organisations cover costs added to capital projects such as building works, refurbishments, and large-scale equipment purchases by pandemic-related delays or fundraising shortfalls. 
Nina Hajiyianni - Artistic Director/CEO, Action Transport Theatre said:
"We are extremely grateful for crucial government support made possible through the Culture Recovery Fund and Capital Kickstart programme, our award will mean that we can successfully deliver our transformational capital programme for Whitby Hall, our much loved but run-down building in Ellesmere Port, along with vital investment provided by Cheshire West and Chester Council. The disruption and impact of Covid on our planned programme was presenting huge financial challenges and we are so pleased that we can look forward to 2021 with increased confidence and excitement."
Read more about it here...
Latest - April 2020
During the last three months the project has made progress, most notably achieving planning permission in February 2020.
In co-operation with Bennetts Associates (the architect) and Engie (the main building contractor) we have been working towards RIBA Stage 4 which as well as creating a much clearer vision or the interior, gives us a level of detail to be able to put the various elements of the work out to tender for potential contractors and suppliers.
Unfortunately Coronavirus and the subsequent impact on all areas of life has significantly slowed our progress, however, we are continuing with RIBA Stage 4 planning and aim to share some of these updated images in the coming months.
Whilst the pandemic continues there will obviously be some delay to the build start date - but Action Transport Theatre and our partners Arts Council England and Cheshire West and Chester Council remain committed to achieving the vision for Whitby Hall.
December 2019 / January 2020
The proposed development will cost in the region of £2.5 million which has been secured through funding from Cheshire West and Chester Council and Arts Council England. Over the coming weeks, the design work will be completed up to RIBA Stage 3 and the scheme is submitted for planning.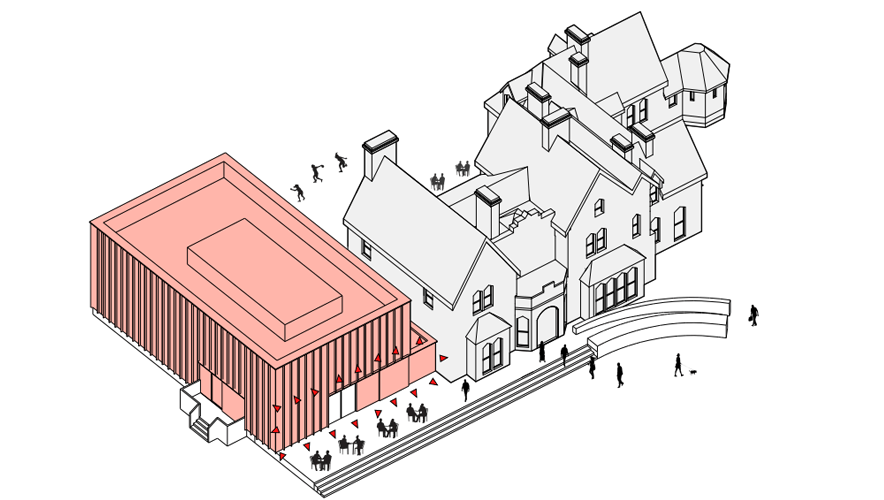 What's happening?
Action Transport Theatre are preparing to carry out an ambitious project which will see the transformation of locally listed Whitby Hall into a world class centre, specialising in high quality arts and culture for children, young people and their families.
The project will transform Whitby Hall from a tired, run-down building into a welcoming, accessible and inspiring arts and cultural centre, which will create a sustainable operating model for Action Transport Theatre; broadening, strengthening and consolidating their position as one of the North of England's key cultural assets.
An award-winning team which includes architects Bennetts Associates and main contractor Engie are appointed to design and construct the project. An exciting, modern scheme has been developed to accommodate the future aspirations of Action Transport Theatre.
You are invited to view the designs and proposals for the building and provide us with feedback through the online questionnaire.
About the transformation
In response to the recent growth and success of Action Transport Theatre and in the context of Ellesmere Port's wider regeneration, a scheme has been developed to transform Whitby Hall into a world class centre specialising in high quality arts and culture for children, young people and their families.
Action Transport Theatre is a professional, specialist young people's theatre in Cheshire; it has a national reputation for creating high quality touring work for children and family audiences, and engages local young people who would otherwise have little or no access to artistic or cultural activities.
The improved arts and cultural centre will support the expansion of Action Transport Theatres programme of activities and allow the theatre to engage with partner organisations to bring a rich range of arts and community activities into the building, including yoga, photography, dance, visual arts and music. Additionally, the project will address the current costly maintenance issues of Whitby Hall; the proposed flexible-use workshop spaces will help to generate further revenue
The transformation directly supports Cheshire West and Chester's cultural strategy for the region. More locally, Whitby Hall and Action Transport Theatre will work strategically with local organisations in Ellesmere Port to support a broad programme of activities across the town, providing opportunities for cultural engagement to all.
You can find out more on the Public Transformation Boards.
Posted: 17 December 2019